Aiming at building advanced social science literacy and practical research ability centering on the study of economics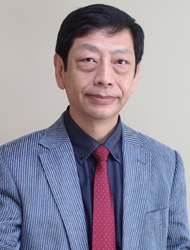 The world is filled with fallacies and pseudo theories that could easily mislead us unless we take a step back and think carefully. With the explosive amount of information available today, we are even more inclined to be trapped by these errors. The world that surrounds us is always chaotic, and throughout history, humans have continuously struggled to understand and improve the mechanism of the world.
In particular, in modern society, rapid innovations take place in various fields, encouraging globalization in different areas including academia, technology, and business. There is an increasing need for highly educated specialists who can analyze complicated social phenomenon with a calm view and empirical methods so that they can contribute to society with their sophisticated insights. As a result, demand for specialized higher education to educate and train such specialists is also growing. The Graduate School of Economics hopes to develop research and education that can contribute to society by advancing and improving the insights in social science focused on economics and the ability to apply them.
While focusing on the academic system centering around the study of economics, we also look at the historical development of society and learning by studying the history of economics and of economic studies in order to foster and hone diverse viewpoints and methodologies that will help tackle various issues arising in the contemporary world. By doing so, we hope to fulfill our mission of contributing to the development of research and education.
Since our institution is located in Kyoto, the hub of universities, our students are not only able to interact with the faculty and fellow graduate students, but also have plenty of opportunities for intellectual exchanges and competition with researchers and graduate students from different universities as well as with professionals who are active in various organizations and groups in the city of Kyoto. After graduation, our students are expected to work as professionals with in-depth knowledge of social studies at research institutions including universities, government offices, private enterprises, and at different NPOs.
We offer two main tracks for the Master's Program, and each curriculum is organized to help graduate students develop and improve their research ability in their fields of specialization.
1) Comprehensive Economics Program
This program offers comprehensive study of essential economics to educate highly skilled professionals who can make active contributions to research institutions, government offices, and in different industries with their outstanding ability for economic analysis and policy building.
2) Graduate Program of Asian and African Studies (GPAAS)
This is a Master's program focused on the study of Asia and Africa. It is an interdepartmental program offered jointly by three graduate schools (Economics, Law, and Intercultural studies).
Students from Master's Degree and Internship Program of African Business Education Initiative for Youth (ABE) that is commissioned by the Japanese government and implemented by JICA also attend the Master's Program. We will continue to create an environment where students of various nationalities can learn together.
The Doctoral Program aims at educating researchers who can conduct global level research and provides systematic instructions so that the students can gain the in-depth understanding of the world required of researchers, develop the ability for creative theory building, and foster competence in advanced applied analytics.
Mission of the Graduate School of Economics and Invitation for Application
Economics is a study to elucidate various economic phenomena arising from human activities including consumption, production, investment, savings, and financial activities. It is the foundation for our material wealth, and our cultural activities can only become possible when supported by a rich economy. By applying the insights gained from the study of economics as practical policy, we believe we can improve and enrich our society.
At the Graduate School of Economics, faculty who are at the forefront of research in their own fields with an abundance of practical experience will tackle various issues with the graduate students and give their best to conduct innovative and creative research. We welcome students with the ambition to join this exciting effort.
Masaharu Takenaka
Dean, Graduate School of Economics